Halloween Wine & Candy Pairings, Pt. 1
Hi! I'm Kevin, your usually humble Cork Genius lab tech but today I'm excited! It feels so good to finally welcome readers to Carefully Curated, a brand-new feature of our Genius Labs focused exclusively on pairing our gourmet food affiliates with vintages curated by our internal (not exactly highly skilled) taste team.
In our continued efforts to enhance our customer's experience, we've partnered with Wired for Wine, a wine & sake delivery service for top-rated vino brands for 30-70% off EVERY DAY until sold out! In addition to contact-free delivery, Wired for Wine provides a 90+ Wine Club subscription that sends you 12 top-rated wines every 3 months. 
In celebration of the collaboration between Cork Genius and Wired for Wine, a few of us prepared some fun Halloween candy and wine pairings. We had a lot of fun with this, picking and tasting blends from Wired for Wine's extensive selection then combining them with our favorite popular candies. Hope you enjoy them and have as much fun as we did!
So, In honor of raising your taste levels past your waist levels, here are my wine and Halloween candy hook-ups:
Snickers & Cabernet Sauvignon
Our Recommendation: Antigal Uno Red 2016, 92 pts
That wonderful combination of roasted peanuts and caramel topped nougat enrobed in milk chocolate is a concept of simplicity, confectionary perfection at its zenith.
To accompany that combo and not be overshadowed requires the robust and flavorful red of a Cabernet Sauvignon, which is bold enough to stand up to the richness of flavors found in a Snickers bar.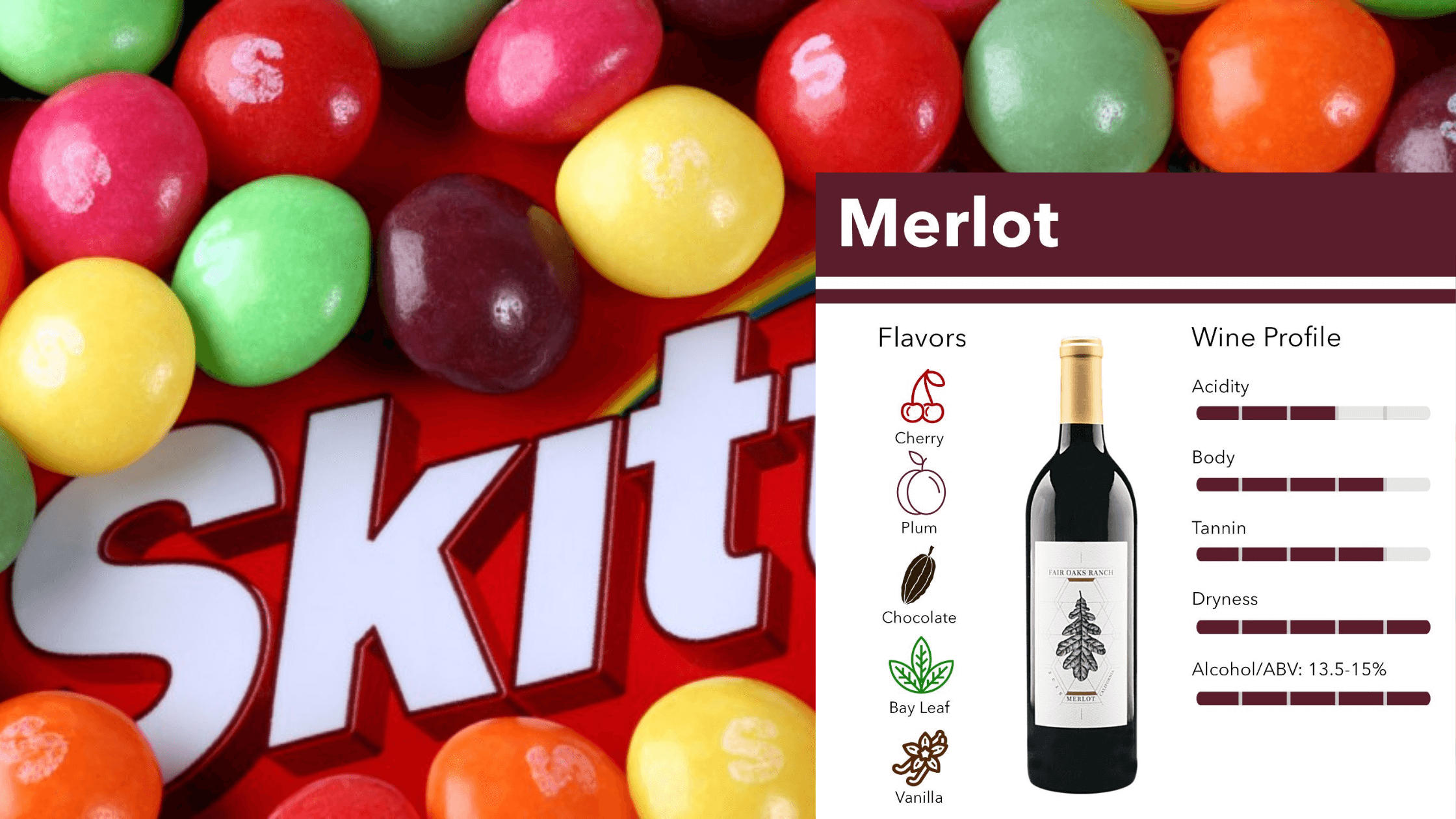 Skittles & Merlot
Our Recommendation: Spring Valley Frederick 2016, 95 pts
Merlot is known for featuring flavors of ripe red fruit and being lower in tannins (or bitterness), which makes it perfect for the fruitiness of Skittles. Tonight's reasonably priced Merlot is a modern classic, a beautifully layered wine with blackcurrants, leafy tobacco, and damp earth-like aromas and flavors fused that pair perfectly with the fruit-flavored Skittles. The blend of this complex Merlot with the hard-to-describe rainbow of flavors in Skittles candies makes for a pleasant yet mystifying flavor experience.
Kit Kat & Pinot Noir
Our Recommendation: Morgan Double L Vineyard Pinot Noir 2017, 96 pts
This Pinot Noir is an elegant blend of raspberry, rose petal, and pepper with a hint of eucalyptus at the end. The wine shows flavors that are delicate yet bold enough to stand up to the richness of a chocolate-covered wafer candy bar like a Kit Kat. This light but flavorful pairing will have you wanting more! With bold fruit, forward flavors of this aromatic vintage will turn this wafer candy into the adult version of chocolate-dipped cherries.
Twix & Syrah
Our Recommendation: Long Shadows Sequel 2016, 93 pts
Twix, with its rich chocolate, buttery shortbread cookie, and indulgent caramel, is a perfect match for a Syrah. The selected variety for this pairing is a medium-bodied blend of 93% Syrah and a touch of Cabernet Sauvignon. The wine is rich in unexpected flavors like Blackberry, smoked earth, graphite, and ground pepper for a smooth yet elegant palate that packs less punch than normal. This full-bodied vintage wrestling with the milk chocolate-covered cookie bathed in caramel creates a vibrant and creamy explosion as it melts in your mouth. 
Here in the Cork Genius labs, we have something all of us participate in called CIA's. No, not the government agency, genius. Over here, the acronym stands for 'Customer Interaction Assignment', and every so often someone is chosen to help illustrate the "science-powered and snobbery-free" lifestyle for our customers. 
The various personalities behind our 'Open, Pour and Store' products assist in creating content that provides customers with helpful tips, useful product info, and touching testimonials, all that to reveal that we're just a bunch of regular wine lovers, like you. And if you are like us then you've screamed "Corkscrews Suck!" more than a few times in your vino enjoying travels.
Welcome to the family, this is a safe space.