Halloween Wine & Candy Pairings, Pt. 3
In these days of "wine of the month club" deliveries and grape juice from concentrate, there's something to be said for an old-fashioned wine list that lists wines by varietal or region rather than price. In my experience, most people don't know the difference between a Pinot Noir and a Merlot, or that they should serve a Bordeaux with red meat and a Chianti with pasta.
Wired for Wine, our wine & sake delivery service (for top-rated vino brands for 30-70% off EVERY DAY until sold out, if you didn't know!) has a 90+ Wine Club subscription that sends you 12 top-rated wines every 3 months. Along with their sensational selection, they also provide pairing tips for those of us who are cooking challenged.
In this final edition of this week's Carefully Curated blog from Cork Genius, we'd like to thank Wired for Wine for providing the excellent choices for us to pair with our Halloween Candy selections. You've already heard from Kevin, Doris and Marcus as they've shared their unique pairings with you all, so let's get right to it! Here are Tabitha's Halloween Candy & Wine Pairings, part 3! Drink and snack responsibly, folks!
Tootsie Rolls & Carignan
Our Recommendation: Les Darons 2019, 88-91 pts
I take a sip and lower my glass. Hmmm…where should I start? Well, the texture is pleasant; it's smooth and creamy like milk or ice cream. It has that same consistency in the mouth, but then disappears like vapor into air when you swallow it—just like water, I suppose.
But the flavor!
The flavor is so delicious and yet so…I don't know—subtle. It's a perfectly balanced cocoa taste, lined with a subtle, fruit-flavored undertone. I guess that's why they call it a palate pleaser because it pleases my palate.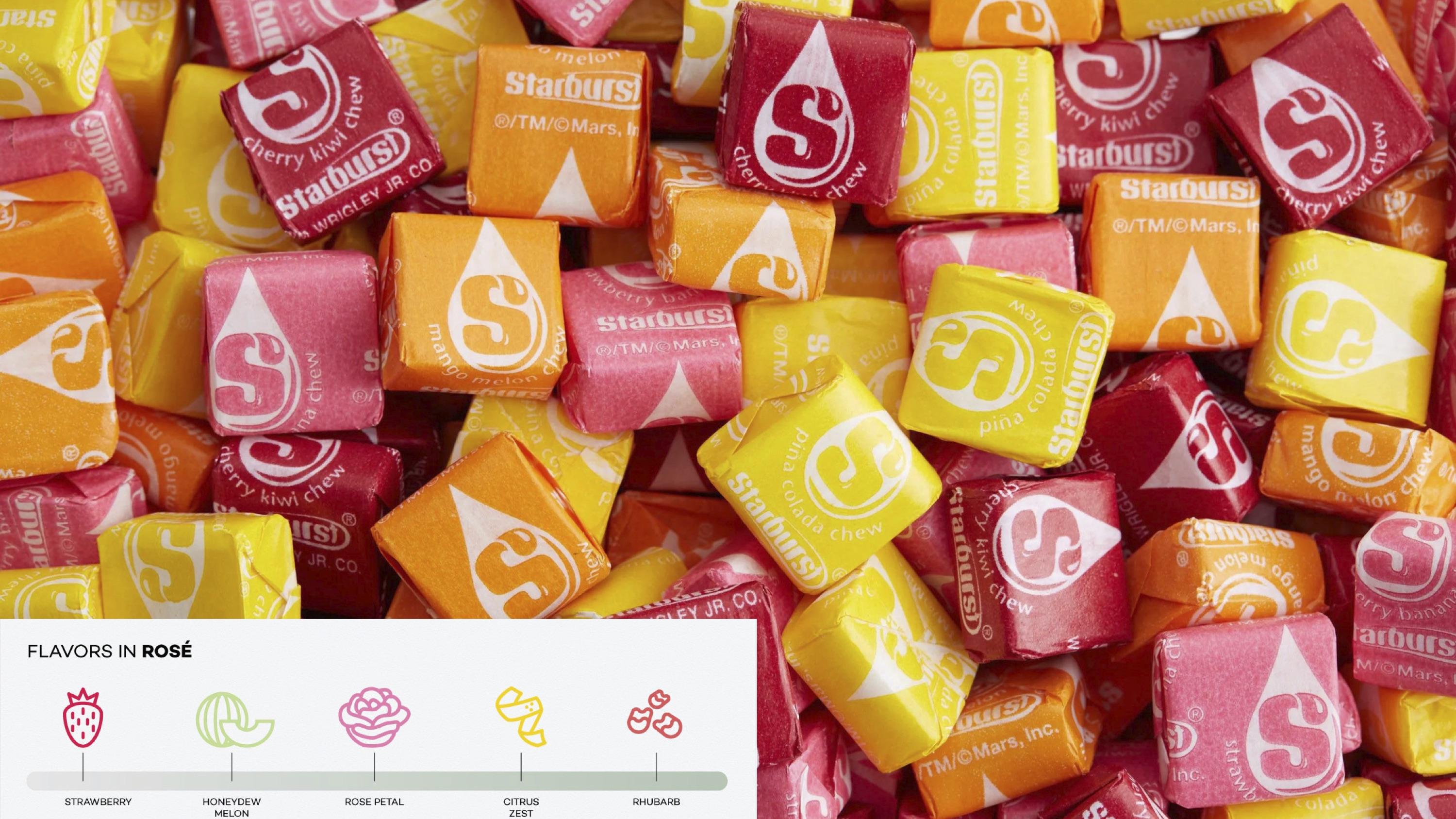 Starburst & Rosé
Our Recommendation: Contratto for England Brut Sparkling Rose 2015, 94 pts
Rosé works wonders with sweet fall fruits. So, it's no surprise that the fruitiness of Starburst candies also match well to this dry pink wine. Rosés high acidity cuts through the chewy sweetness of these fruity candies while keeping the combination light and refreshing.
At the same time, this pale pink beauty is dry as a bone, with lots of delicious fruit and zippy acidity. Serve it as your house aperitif, or with a bag of these fruit-flavored Starburst and literally feel the delight of melting flavors all over your tongue.
Jolly Ranchers & Gewurztraminer
Our Recommendation: Hugel Vendange Tardive Gewurztraminer 2011, 94 pts
A Gewürztraminer is typically rich, off-dry and highly aromatic, with a spicy character that is due in part to the grape's naturally high acidity, it can be an acquired taste. The best Gewürztraminer wines offer wonderful spicy yet floral aromas and flavors.
When combined with the deliciously pleasant flavors of Wild Strawberry, Green Apple, Watermelon, Cherry and Blue Raspberry Jolly Ranchers leaves you with a sweet flavor that stays with you long after the candy is gone.
Swedish Fish & Lambrusco
Our Recommendation: Cleto Chiarli Brut de Noir Rose, unrated
Don't let the fact that this wine is unrated deter you from experiencing something fantastic for next to nothing. I know, the best things in life are free but you can get a whole lot from spending just a little, sometimes.
Cleto Chiarli has a gorgeous pink color with gentle bubbles, a luxuriously creamy foam and notes of roses, strawberries, and raspberries. Its lively persona pairs beautifully with many foods. But in this instance, we're pairing this bubbling vino with the bold berry and cherry flavors mirror those of the Swedish Fish.
While an unconventional choice, this unique combo of creamy textures, berry flavors and persistent bubbles make for a lovely yet complex treat. 
Run over to our Instagram and TikTok to see the Tootsie-Roll-dipped strawberries our social team made to pair with Carignan! They were DELICIOUS and included an ingredient I never would have thought to add in the recipe. 
Thank you for letting us share our creativity with you! Be on the lookout for more Carefully Curated pairings in the near future. On behalf of Cork Genius we'd like you to remember to stay "science driven and snobbery free"!