Liquid Leftovers
Part One
We've all been there, facing the ultimate wine drinker's dilemma — you're craving a single glass of wine with dinner, but unwilling to sacrifice an entire bottle for just one pour. 
Once the cork pops, the countdown clock to vino expiration begins ticking. We're re-introducing air to the drinking equation, which has a love-hate relationship with wine. A little bit of oxygen can help bring out key aromas and flavors, however, exposure to air over a longer period of time will flatten and spoil our wine.
Simply re-corking isn't enough (that's actually trapping unwanted air in the bottle with the wine), which is why there are wine preservation systems. These are nifty gadgets that remove unwanted air from uncorked bottles and extend the expiration date of wine by several days, or even weeks! 
There are a lot of these short-term solutions out there, so here's a quick round-up of the types of systems that can help you extend the lifespan of your liquid leftovers:
Air Displacement Systems
Some systems opt to push (vs pull) oxygen from an opened bottle by filling the empty space with something other than air. These options include transferring your wine to carafes with special lids designed to keep oxygen at bay, or blasting a protective layer of non-toxic, oxygen-displacing gas into a bottle before sealing it back up. 
If you're in a pinch, there's also a DIY solution of filling your half-drank bottle with small objects (such as a handful of marbles). This raises the liquid level of the bottle to the top before re-corking, which limits the amount of oxygen exposure to your wine, but likely won't buy you more than a day or two.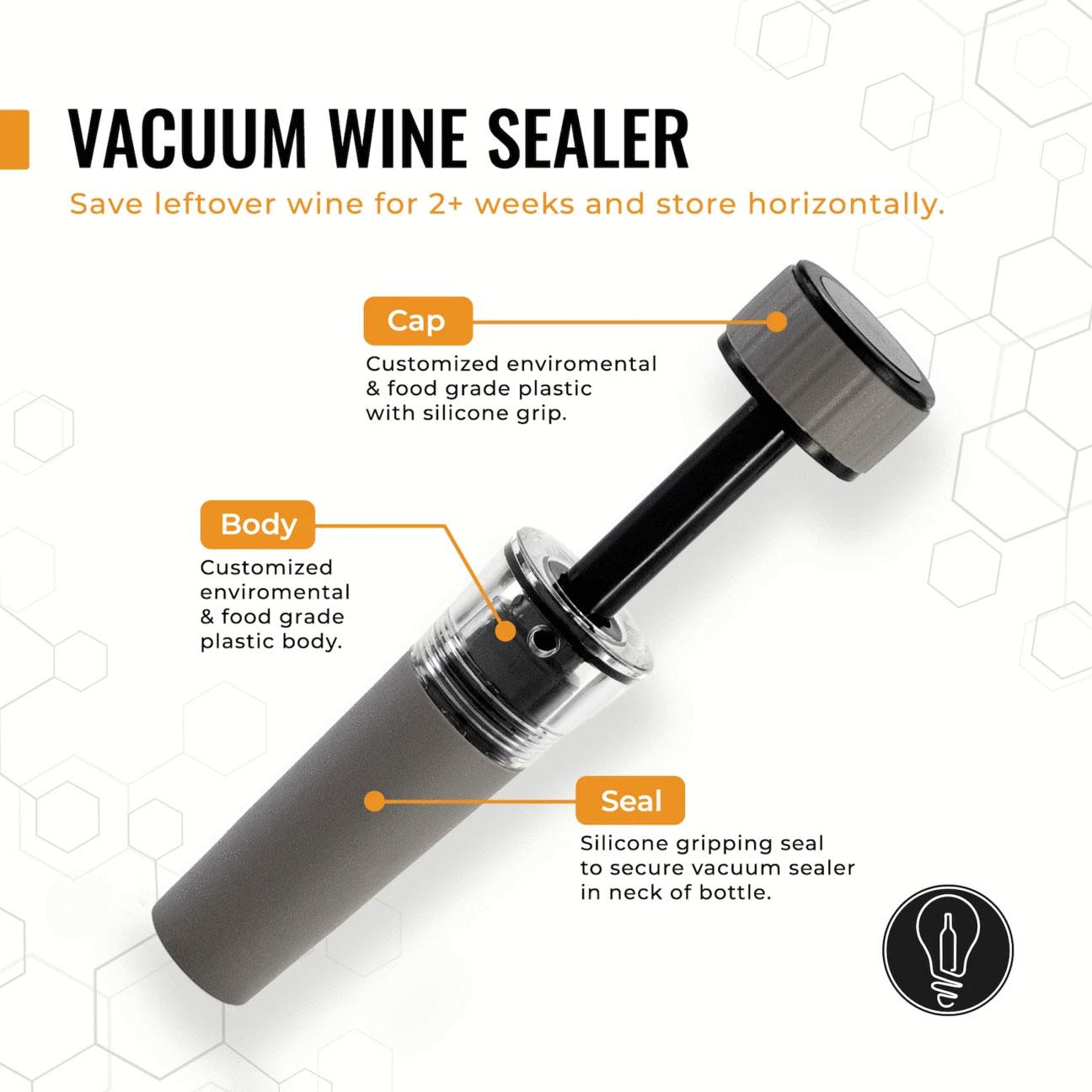 Vacuum Sealers
Vacuum sealers, like the Cork Genius Vacuum Sealer, are the most common preservation systems available to wine-lovers. These are basically pumps that pull the air (but not the flavor!) out of a bottle, creating a vacuum seal that can add several days to your wine's lifespan. 
Depending on your needs, sealers range in price, style, and convenience, from manual hand-pumps all the way up to fancy automated sealers that are scaled-down replicas of commercial preservation systems. 
What's Best for You?
Generally speaking, science supports vacuum sealers over displacement systems. They're just better at ensuring the least amount of oxygen is interacting with your wine, so your opened bottles will last longer.
That's what we created the Cork Genius Vacuum Sealer, a simple, affordable, and convenient solution for preserving your wine. It's small, easy-to-use, and (unlike most manual sealers) the pump is built right into the stopper, so you can take it on the road without worrying about losing any pieces.
So whether you're just having a glass at home, or looking to save the leftovers of an expensive vintage you splurged on while out to eat, the Cork Genius Vacuum Sealer is your simple, scientifically-proven solution to extending the life of your liquid leftovers.